bibit-all™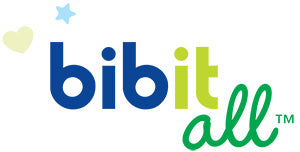 1499
Long sleeves with ribbed cuffs, a high ribbed collar to protect from drips, full coverage that extends to the lap and an innovative waterproof lining that prevents foods and liquids from soaking through

Revolutionary lining is a lightweight but durable stretch knit PUL – 100% waterproof, soft, and comfortable

Machine washable and dryable

Super-stretchy pullover design and easy-in/easy-out sleeves make the bibit-all quick, easy, and comfortable to put on and take off

Fashionable colors and design make the bibit-all an attractive accessory in any setting
Product Description
The bibit-all™ is a must have bib that finally gives parents an effective solution to a universal problem – mealtime messes at home and on the go. The bibit-all™ is a lightweight, full coverage bib with a unique design. The super-soft, stretch terry bibit-all™ features long sleeves with ribbed cuffs, a high ribbed collar to protect from drips and full coverage that extends to the lap. An innovative waterproof lining prevents foods and liquids from soaking through. This means less clothing changes, less laundry, less stains and greater peace of mind at home and on the go.
The bibit-all™ is made from high-quality, stretch terry and ribbing for plush softness, comfortable stretch, superior absorbency, and durability. The revolutionary lining is not only 100% waterproof, but is also a stretch knit that is soft, light and comfortable. The lightweight but durable PUL lining provides an effective barrier without adding bulk or restraint of movement.
The bibit-all™ is refreshingly convenient to use. Without snaps, ties or Velcro fasteners to fuss with, the super-stretchy pullover design and easy-in/easy-out sleeves make the bibit-all quick, easy, and comfortable to put on and take off. The bibit-all™ is also conveniently portable – it can be compactly folded or stuffed into a diaper bag pocket and still be wrinkle free when taken out for use.
The bibit-all is conveniently machine washable and dryable. It retains its shape and quality, use after use and wash after wash. The bibit-all™ is available in two sizes: 6-12 months for infants and 12 months+ for toddlers and preschoolers. Finally, a bib that combines coverage, comfort, quality and convenience all in one!
Additional Information
Weight
0.3 lbs
Dimensions in packaging
15 x 7.5 x 0.5 inches
Bib
80% Cotton 20% Polyester
Trim
95% Cotton 5% Spandex
Lining
100% Polyester (PUL)

Machine wash cold with like colors
Tumble dry low
Do not bleach
Do not dry clean